Article #53
Micromanagement is often defined as "excessive control of people or projects" and it is popularly viewed as an evil not a good. But is it entirely?
I believe that the ambiguity comes when we try to get our arms around exactly what is excessive? Most micromanagers I have encountered do not realize they micromanage—but their people do!
I think you would probably agree that an appropriate level of control is absolutely necessary to run a solid enterprise. But what is an appropriate level of control? When does a manager cross the line and get too controlling or suppressive?
On the other end of the spectrum, however, a manager could be seen as weak, disconnected or ambivalent if they under-manage. They could get too little performance from their people precisely because they fail to provide enough oversight!
Do you find it challenging to balance being totally in control—with not being overly-controlling?
Balanced managers find just the right mix of connecting, supervising, measuring, oversight, autonomy, and keeping people accountable to results—all without being over-the-top, control-freakish, or heavy-handed.
4 Differences of Being a Balanced Manager Versus A Painful Micromanager
Micromanagement kills the spirit and drive of people by obsessing about the minutiae. Balanced managers may initiate projects, set the goals or parameters for associates and then get out of the way—but they immediately re-engage whenever projects stall out or lag behind. Micromanagers get in the way because they can't release control.
Micromanagement clogs up the free flow of creative energies and inspired efforts. Micromanagers often manage granularly, meaning that they drive hard for results by ruling with an iron thumb. I coached an executive of a small family business on his micromanaging tendencies a few years ago. He admitted to me that he personally approved and edited all memos that his executive team wrote before they could be sent out! What a waste of time! But this is just like micromanagers, rather than want summaries or highlights of progress they immerse into the micro level of projects or tasks and snuff the very life out of people. In contrast, balanced managers want the bigger picture, want to be copied on reports, and receiving a recap of a project's status is fine with them. However, when goals or metrics are not being reached they look to get things back on course, quickly—and they re-engage as much as needed to achieve outcomes.
Article #52
I'm not a futurist, but, if you ask me to look through my plexiglass ball – I see 7 Major Trends that will impact most companies over the next ten years.
More importantly, I believe there is a link to those trends and 7 Ways to Engage Gen Y Employees to help your organization succeed better and faster at making changes to survive, even thrive in the future.
Based on a nationwide workplace study of Gen Y employees, here's my prediction and extrapolations…
7 Ways to Engage Gen Y Employees to Help Your Company Survive Better and Faster
Endless Efficiency. Business must find ways to streamline everything possible in order to be more productive, increase competitiveness. Gen Y has a penchant for finding ways to improve everything, reinvent, downsize or utilize technology better, faster, cheaper. Involve them early in the idea stage versus waiting until the plan is ready for implementation.
Urgency in the Culture . Business must get employees on board with needed change, quickly, by turning energies and efforts loose on solving competitive threats and pursuing opportunities. Change is moving from periodic to continual and Gen Y employees want to be engaged. They are wired for ditching the status quo and instituting changes fast, switching direction altogether, or altering embedded processes to make things better.
Article #51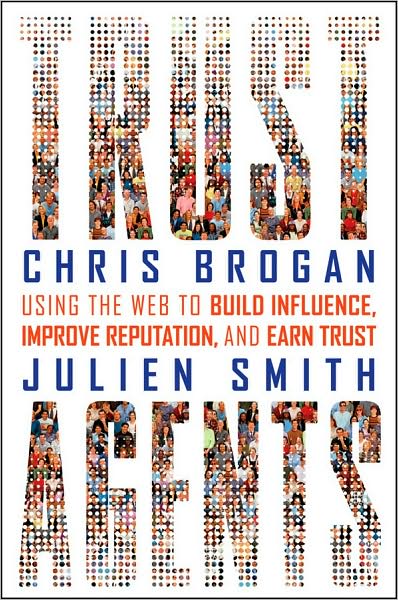 by Chris Brogan and Julien Smith
The bestseller Trust Agents, by Brogan and Smith hits a big nerve today, one epitomized in its subtitle: Using The Web To Build Influence, Improve Reputation and Earn Trust.
Who doesn't want to know how to do that? I suspect just about everyone who cares to grow their business or profits will.
One feature of Trust Agents I really liked is the number of tools (how to's and links) the authors provide so that you can actually take action on what they recommend. For example there are tidbits on how to get followed on Twitter, how to use LinkedIn, secrets to successful blogging and more.
Here's something that was missing from the book, however…a prescription for how to 'manage' all the social media like Facebook Twitter, LinkedIn and on and on in 45 minutes or less a day?!! Whew!
That aside, it's virtually unarguable that building online trust in your company is most important today, a point the authors argue with compelling examples. As legendary advertiser David Ogilvy said, "People must trust you to buy from you, and the more they trust the more they buy."
Here are six of the book's best points from my reader's view:
Focus on how to use internet tools to connect and build relationships with customers. Avoid concentrating on the operations side of making the tools make sense to you. Look instead toward seeking connections with people through different avenues to create a unique experience with potential customers.
Become a "One of Us" trust agent in order to gain credibility and belong to an online community. A community relates to and trusts those that appear to talk like them, hang out at the same places they do, and will be seen as honest and genuine in their opinions.
Article #50
Admittedly, I'm addicted to great customer service. I like to get it. I like to give it.
Whenever I don't get great service, I'm disappointed. At times, it makes me boiling mad. Take the experience I had the other day around nine in the morning….
My Customer Service Experience Was Terrible
I stopped at a national chain drug store for a bottle of over-priced, filtered water—the kind that's supposed to make you "smarter"—at least that's what the label says. I could have gone to a convenience store, but in this case I knew they had what I wanted and it was handy.
Several bottles of the water were lodged at the back of the slotted holder, and it happened to be, of course, at the upper most shelf of the refrigerated unit. Since I couldn't reach them without climbing on top of the unit myself, I turned to the rather tall, thirty-something-old employee (looked like he could be a manager) and made him aware of the problem (opportunity actually).
He looked at me briefly, and without smiling or saying anything he immediately stopped stocking the shelf he was working on and walked over. Still, without saying a word to me, he pulled some bottles from the back of the slot and started handing them to me, one… then a second… then a third bottle. "Whoa, wait I only wanted one," I said. He took two bottles and put them back, turned and walked back to the shelf he was stocking just a few feet away.
The man never smiled, never made a comment in my direction, never apologized for the inconvenience, nor did he make any attempt to thank me for my business.
Impersonal. Indifferent. He made me feel like he could care less about my business.
To make matters worse, when I walked to the front to pay, the employee (a young lady maybe in her late twenties) was leaning on the counter with both elbows, scowling.
She was gloomy, indifferent, and uninterested in me, her customer. She was just going through the motions of ringing up my merchandise and going back to being mad at the world, or feeling sorry for herself. Who knows?
What I do know is that she didn't greet me, didn't smile. She didn't say thank you—she did nothing to make me feel like she could give a rip about my business. I even had to ask for a bag.***
There Were 5 Vital Points These Employees Had Not Bought Into:
The most important activity that can ever go on in any business is when the customer calls or comes in to buy something. Contrary to popular belief, this trumps "real" job duties like stocking or straightening shelves, sweeping, doing paperwork, filing, typing, looking something up on the computer… or TEXTING. Heaven forbid!
Article #49
The economics of selling today, for sales managers in particular, is getting really tough out there, especially in B2B.
It's not a time for complacency or cruise control selling. Nor is it wise to take comfort in our so-called "locked-in" accounts when every competitor is coming after them.
A lot is changing, and sales managers are groping for levers to pull as they attempt to increase sales.
The new economics of selling is something I'm calling Salesonomics™ because it's all about making sales, making more sales to existing customers, and making new sales—all profitably!
In the coming months I'll be rolling out a new book titled Salesonomics™ as well as an on-site managed process for sales teams which I've utilized in a number of companies with great success (hundreds of thousands and millions of dollars in additional business landed). 
Consider just four significant shifts (changes) in selling and I think you'll agree, it's imperative to target accounts (1) not successfully sold to before, (2) protect existing accounts from competitor infiltration, and (3) expand business with existing customers where we have underdeveloped opportunities.
4 Changes In Selling B2B Today:
Commoditizing everything! Differentiation used to be much simpler. Now however, areas like specialty manufacturing, high tech firms, specialized service, medical device companies, financial planners and advisors, as well as numerous other firms face stiffening competition. This development along with narrowing technological advantages, the ubiquity of the Internet for commerce, globalization, and shorter lifecycles for competitive strategy causes buyers to use commoditizing as a means to intensify negotiations with suppliers.
Article #48
Is your company attracting then retaining bright, younger workers successfully? Is your community keeping its best and brightest or are they moving away for greener pastures?
This begs the question: What do Gen Y workers want anyway? And what exactly do they expect from a boss in terms of managing work efforts, effectively?
To prepare for a meeting with city leaders, I recently met with an interesting Gen Y/Xer (she's between the demographer lines) who works in a professional staff position in my city.
Our city, like others, is attempting to understand how we can do a better job of keeping our best/brightest talent here—and not move away to your city, for example!
When this young lady shared with me how much she had enjoyed working at a previous position in Washington, D.C. (prior to moving to my city of Springfield, MO) especially how she had loved working for the management at that organization, I was really curious. I asked her to explain exactly what the management had done to make it such a great work experience.
Her answer was insightful, it also serves as a good reminder for what many Gen Y workers want today.
What Gen Yers Wish Managers Knew About Managing:
Shed titles. Contrast that with managers who use a title (and its authority) to control others. The managers at the Washington organization weren't interested in 'controlling' but in collaborating with employees more effectively, hence they shed the formality of their titles and got on her level. While they still held a title, of course, they didn't allow those titles to create distance or tension—as in I'm over you and I'm your boss so I do as I say.
Article #47
Guest Blogger: Jaclyn Boatright
What makes a customer choose one business over another? How can a business create a positive experience for its customers in a way that compels customers to return—over other options?
For the past five years I have conducted over 500 shopping experiences as a secret shopper. I have seen the good, the bad, and the ugly of quick-food restaurants, automotive services, and retail.
When you have a positive experience with a company that company sticks out to you, and you think about them whenever you need that particular service again. It creates customer loyalty.
Based on my 500+ experiences, there were six things the best employees did:
Show customers that you enjoy your job by smiling and having an energetic tone in your voice. Happiness is catching and people like to be around happy people. It makes the customer feel good when they are walking away from the interaction. Also, it makes the customer associate the business with that positive feeling.
Article #46
Have you seen Undercover Boss on CBS?
The reality show Undercover Boss places CEO's undercover in their own companies to get a personal sense for what's really going on. The CEO goes to work at an entry level or manager-in-training position, does the actual job, all the while no one except other upper leaders know his true identify.
I enjoy watching the show, it's entertaining and titillates my intellectual curiosity about these companies.
It does point out an important reminder that one shouldn't miss in my view: upper management often insulates itself far from reality, at least where it matters most—with employees.
Something I'm not at all surprised about from the first four episodes, is that the undercover CEO is struck by the discovery that many of the hallowed "programs and initiatives" created by top leaders, have failed to get consistently implemented across the enterprise by mid-management as well as employees.
They are truly caught off-guard to discover that their corporate "programs and procedures" are often looked on laughably, and/or with great disdain by the employees who actually do the day-in day-out work.
For example, the Hooter's CEO episode was sad.
A
rticle #45
During these uncertain times, is it possible that some of your customer's are less likely to switch loyalties to another supplier, even if that supplier 'might' offer some advantages?
Do you see customer loyalty on the rise? Some of my clients do and have expressed this view to me recently.
One client recently passed this story along: when his sales force blitzes a new territory for their product line, out of 300+ contacts they now only yield 1 or 2% new customers! In the past this was apparently much higher. And get this, he wasn't referring to a direct-mail blitz, but rather, personal contacts in the field. His company has earned a stellar reputation in the marketplace, and has among the highest quality as well as lowest price points, but still finds receptivity to doing business with a new supplier much more difficult to achieve.
What factors may be driving increased customer loyalty today? Well, according to some studies (Harvard Business Review, July-Aug 2009) trust in business is running much lower than in previous years.
So, if decision-makers trust other businesses less, doesn't it seem possible that they might be less likely to consider switching to new vendors? While resistance to changing suppliers has always been evident in competitive B2B markets, it may just be on the rise.
Fortunately, there are some ways you can ride this wave of mistrust and come out ahead.
7 Ways to Keep Existing Customers and/or Land New Ones:
Find ways to build and earn more trust in the initial phase of your sales cycle with prospects. Offer to do lunch and learns, provide case studies of your results, provide a steady stream of customer testimonials.
Give the sales cycle longer intervals than in the past. If your sales cycle is six months, give it nine or twelve when soliciting a prospect who has never done business with your company before now.
Short Article #44
 Q. DEAR MARK: I understand the need and benefit of work-independence, but can an employee have too much independence? What are some of the signs? –Eric
A. DEAR ERIC: While it's a very effective tool for motivating and retaining good employees, granting work independence (autonomy) can be too-much of a good thing. Besides, the best approach for further empowering employees may have little to do with more autonomy.
There are three signs to look for before concluding that more job independence is definitely needed in your workplace:
No. 1, is your employee overwhelmed? Are they missing deadlines frequently? Has their morale or attitude grown more negative recently? Do they appear more stressed, tense or short on patience than normal? If so, then visit with your employee and find out what's going on. Even the most dedicated employee can only take being 'overwhelmed' for so long.
Granting more autonomy can help in this situation, but only if you do two things: allow your employee to delegate appropriate amounts of their workload to others, and secondly, if you make expressly clear the overall goals and priorities which will impact the employee's work going forward.